THE MUSIC OF NEWBURY & HOBBES
"

Welcome to the bizarre and dangerous world of Victorian London, a city teetering on the edge of revolution. Its people are ushering in a new era of technology, dazzled each day by new inventions. Airships soar in the skies over the city, whilst ground trains rumble through the streets and clockwork automatons are programmed to carry out menial tasks in the offices of lawyers, policemen and journalists.

But beneath this shiny veneer of progress lurks a sinister side. For this is also a world where ghostly policemen haunt the fog-laden alleyways of Whitechapel, where cadavers can rise from the dead and where Sir Maurice Newbury, Gentleman Investigator for the Crown, works tirelessly to protect the Empire from her foes.

When an airship crashes in mysterious circumstances, Sir Maurice and his recently appointed assistant Miss Veronica Hobbes are called in to investigate. Meanwhile, Scotland Yard is baffled by a spate of grisly murders and a terrifying plague is ravaging the slums of the city.

So begins an adventure quite unlike any other, a thrilling steampunk mystery and the first in the series of "Newbury & Hobbes" investigations."
— Back cover description: The Affinity Bridge
Now Available via PayPal
The Music of Newbury & Hobbes | Volume One
A limited run of 100 CDs
"Brad's music masterfully recreates the tone and spirit of Newbury and Veronica's world, immersing the listener in the fog-laden,  monster-infested streets, the stink of steam and soot rich in the nostrils. A triumph!"  - George Mann
About three years ago, I was looking for an opportunity to write a score based on a story which took place in the late 19th century during the Victorian era, perhaps something that might recall a Holmesian atmosphere, yet something different. The first step in pursuing this quest was to look for the right stories, so one day, I went to my local bookstore and perused the Mystery, Science Fiction, and Fantasy sections in search of something inspiring. By the end of the visit, I discovered George Mann's Newbury & Hobbes Investigations. These were mystery adventure stories set primarily in an alternate 1901 steampunk infused London. 
After reading the first few pages of the first novel "The Affinity Bridge", I was reeling from all the musical possibilities, from the liberal use of historical and bespoke instruments to full symphonic creations. At this point, I send George and email and crossed my fingers. Thankfully, he was open to my idea of creating a collection of music based on his novels, so for the first few months, I would send him ideas for themes and await his feedback. I still remember well sending him three ideas for the main theme, and then him picking the one he liked best which can now be heard on track one. Bouncing ideas off of the creator of the world I was writing about was great fun!
Initially, the plan was to release a collection of about 15 tracks two years ago which would contain some musical highlights based on characters and events in the first three books of the series, but as I delved deeper, I found myself releasing three self-contained soundtracks for each book!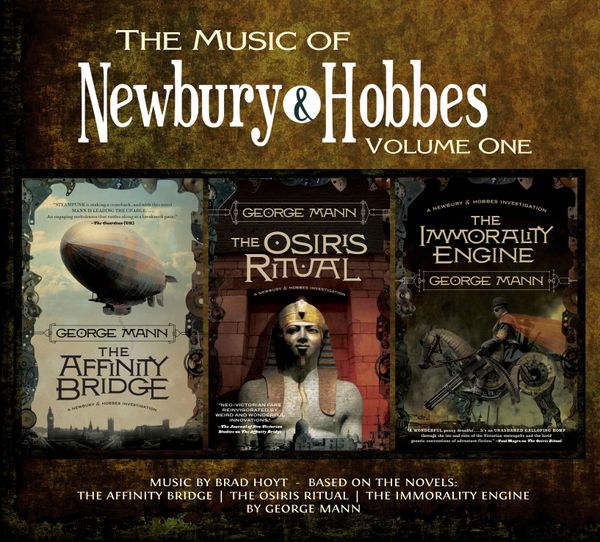 The concluding soundtrack "The Immorality Engine" was finished earlier this year and since I released that, I wanted to publish a limited run of 100 CDs that would contain my favorite music from all three, so now I'm proud to say that these CDs are available to purchase!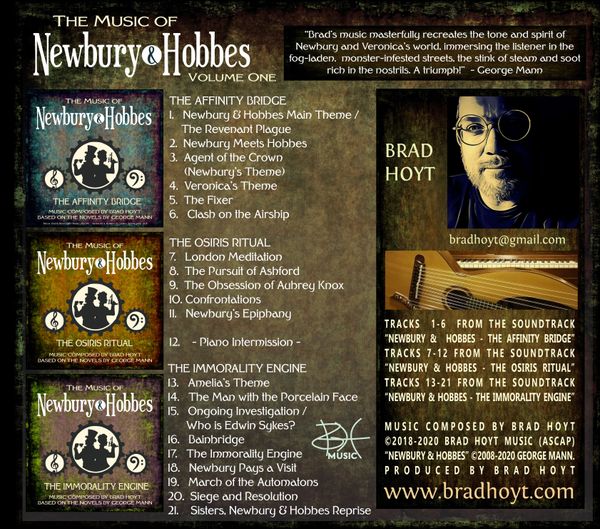 I know CDs are becoming a thing of the past, but it still feels good to have something tangible. I will not be printing any more after these are gone. Writing and arranging music for these projects have been very rewarding and a great learning experience. Thank you George, and I hope you enjoy the music. :) 
- Brad Hoyt, December 3rd, 2020
CDs can be purchased using PayPal
If you feel inclined to read the books as well, please feel free to click on the book images below.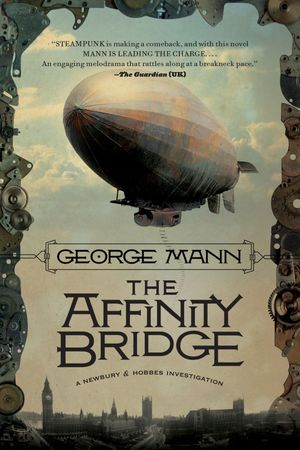 Interview from Issue #1 of the mini-series Newbury & Hobbes | The Undying
(c)2018 published by Titan Comics
Although they began their lives in a series of a fantastic novels, Newbury and Hobbes have since been branching out – whether that's in the world of comics, or, thanks to the skillful and emotive compositions of Brad Hoyt, their own official soundtrack album – the perfect accompaniment to the pair in any storytelling medium. We talked to Brad to find out more about how the album came to be…
1) What inspired you to create music based on Newbury & Hobbes?
After collaborating with some amazing harp guitarists and jazz players from around the world for a number of years, I wanted to switch gears and write a score based on a story. As a fan of John Williams, I liked the idea of scoring various scenes and writing character themes. I was also impressed with composer Joel McNeely's soundtrack for Shadows of the Empire which was a complete score based on a book. With this idea of scoring a book (as opposed to a movie), I hit the bookstores in search of a story I would like to score. My preference was for an action adventure with strong characters. With my interest in historical instruments, Jeremy Brett's Sherlock Holmes, and the steampunk art of Vadim Voitekhovitch, I was immediately attracted to a first printing of The Affinity Bridge that I discovered. I'm happy to say that, once George heard the music I was working on at the time, he gave me his blessing and it's been incredibly fun and rewarding ever since.
2) What do you feel is the relationship between books and music?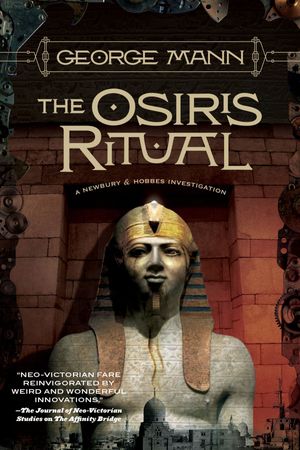 In my experience, I believe that music can really add a third dimension to the stories and characters in the books. It's one thing to read about the character traits of Maurice Newbury and imagine his voice in your head as you're reading his dialogue, but when you listen to his character theme at different points in a story, it can give you a clearer insight into his personality that you may not have fully surmised. For example, when listening to his character theme "Agent of the Crown", you'll get a perception of the character as portrayed at the beginning of the first novel The Affinity Bridge, but when you hear an excerpt of his theme re-imagined in the piece entitled "Newbury's Epiphany", which is based on events at the end of the second novel The Osiris Ritual, you'll get a sense of the emotions that the character was going through by hearing the character's theme filtered through a different musical stylistic choice. This can allow the listener to become more emotionally connected to what is happening to a character at any given time. I would also add that, when reading a book, I believe all of us like to imagine it being played out as a movie. It can come natural to visualize a setting and hear the different voices of the characters, but it doesn't necessarily come natural to add an original score to the proceedings. A recording like this fills in that gap, which will make that movie in your head seem more like an actual movie!
3) Was there a particular scene you enjoyed scoring?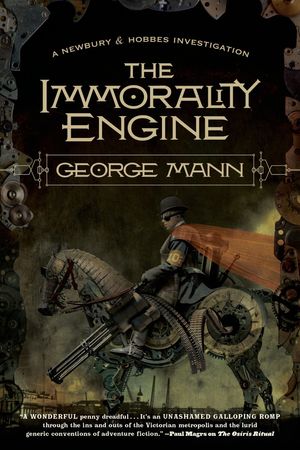 One scene that comes to mind is "The Pursuit of Ashford". This piece depicts Newbury chasing after a character named "Ashford" in the book The Osiris Ritual. It's a prolonged scene where the stakes are continually raised. When writing the music for this, I start out with some tension that slowly builds. Then, when the chase is at its peak, the Newbury & Hobbes Theme suddenly kicks in! I always loved how, in Bond films, the James Bond theme would appear out of nowhere, front and center during a pivotal action scene. I thought this scene deserved that treatment. I'm happy with how it turned out!
4) Who's your favorite character from the series?
At the end of the day, I would say Veronica Hobbes. It seems to me that her perspective most closely resembles that of the reader. It's also easy to empathize with her since she must deal with the eccentricities of Newbury while simultaneously being fond of him. That being said, my favorite scenes are when Newbury, Hobbes, and Bainbridge are all together.
5) Why should people listen to your new album?
I believe that listening to the themes and the scored scenes will make reading the books a richer and more rewarding experience.
The full soundtracks as well as the original main theme are available at the links below:
The Music of Newbury & Hobbes | The Affinity Engine
The Music of Newbury & Hobbes | The Osiris Ritual
The Music of Newbury & Hobbes | The Immorality Engine
Newbury & Hobbes Main Theme (single)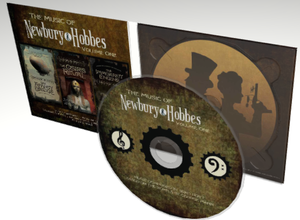 Click for 3D digipak animation
"Newbury & Hobbes" © George Mann 2008, 2020
The music in the videos below are included on the CD and are as follows "Newbury & Hobbes Main Theme | The Revenant Plague" from The Affinity Bridge soundtrack, "Newbury's Epiphany" from The Osiris Ritual soundtrack, and "March of the Automatons" from The Immorality Engine soundtrack.